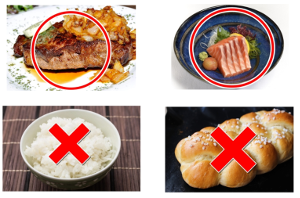 低醣飲食相信是近期坊間非常熱門的討論話題。現在就讓我們了解一下何謂低醣飲食。

低醣飲食就是透過採取低碳水化合物飲食法,讓肝臟產生酮作為消耗的能源。低醣飲食又有各種名稱 - 例如生酮飲食、低碳水化合物飲食、低碳水化合物高脂肪(LCHF)等。

低醣飲食其中一個特點是你攝取的碳水化合物(例如含糖食物、米飯、麵食和麵包等)含量相當低。相反,你偏好其他的食物,這些食物蘊含蛋白質、天然脂肪,也包括各類蔬菜。

研究表明,低碳水化合物飲食會令到體重減輕,其他健康指標也能得以改善。

目前越來越多研究顯示,我們無需再過分擔心從飲食中攝取天然脂肪會造成不良後果,以往那些教科書中提到的食物金字塔建議也應該作出適當更改。低碳水化合物飲食是透過減少攝入糖和澱粉為目的。你可以進食其他美味的食物,直到飽暖,仍然能達到減肥的目的。

低醣飲食的原理
當你避免過量進食糖和澱粉類食物,你的血糖水平便會趨於穩定,胰島素水平也會慢慢下降。這會增加體內脂肪燃燒,使你得到飽腹感覺,減少食物攝入量,並導致體重減輕。

研究證明,低碳水化合物飲食具有輕鬆地減肥和控制血糖等優點。

基本飲食方式
多選擇食:肉類、魚類、蛋類和生長於地面的蔬菜和天然脂肪(例如牛油)。
避免進食:糖和澱粉類食物(如麵包、意大利粉、米飯、豆類和薯仔等)。

簡單地講,低醣飲食就是:選擇正確的食物,當你餓的時候就進食,直至飽暖。


Keto diet is one of the trending topics right now.  Let's learn more about it.

A keto diet is well known for being a low carb diet, where the body produces ketones in the liver to be used as energy. It's referred to as many different names – ketogenic diet, low carb diet, low carb high fat (LCHF), etc.

A keto diet is low in carbohydrates, like sugary foods, pasta and bread. Instead, you eat real foods including protein, natural fats and vegetables.

Studies show that low-carb diets result in weight loss and improved health markers.

Studies now show that there's no reason to fear natural fats.  On a low-carb diet, you instead minimize your intake of sugar and starches. You can eat other delicious foods until you are satisfied – and still lose weight.

How does it work?
When you avoid sugar and starches, your blood sugar stabilizes and the levels of the fat-storing hormone insulin drop. This increases fat burning and makes you feel more satiated, reducing food intake and causing weight loss.

Studies prove that a low-carb diet makes it easier both to lose weight and to control your blood sugar, among other benefits.

The basics
Eat: Meat, fish, eggs, vegetables growing above ground and natural fats (like butter).
Avoid: Sugar and starchy foods (like bread, pasta, rice, beans and potatoes).
Eat when you're hungry, until you're satisfied. It's that simple.