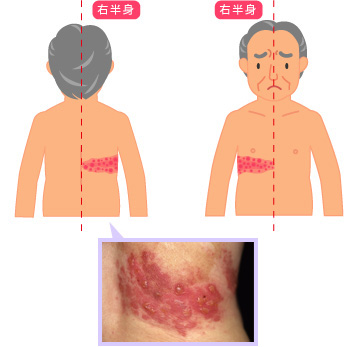 帶狀皰疹病毒潛伏於體內,一旦病毒發作會引起皮疹,並造成後遺性神經痛,這種皮疹叫做帶狀皰疹,或俗稱"生蛇"。帶狀皰疹病毒也是生水痘的元兇。

人體感染了水痘後,即使水痘已經消失,病毒仍然會潛伏於你的神經末梢。這通常不成問題。然而,如果病毒在某一個神經末梢被重新激活,則會沿著該神經的分佈產生皮疹(小水泡)。帶狀皰疹的特徵是非常疼痛,通常發生於身體的其中一側,形成一條線的形狀。如果這條線延伸超過了身體的中線,則問題可能由其他因素引起而並非生蛇。

帶狀皰疹引起的疼痛感覺有時會持續一段時間,如果持續數周至數年(大約一半老年患者的痛症會持續一年以上),則稱為"帶狀皰疹後神經痛(PHN)"。PHN的疼痛感覺類似被火灼傷、觸電,或深層的痛楚。而長者受PHN的影響最大,可以嚴重影響生活。幸好醫學進步,現時大多數帶狀皰疹都可以得到有效治療。

治療程序
當出現上述症狀,身體有疼痛性皮疹(但不痕癢),建議立即求醫。醫生一般會處方抗病毒藥物,療程大約7-10天。

抗病毒藥物
帶狀皰疹發作初期(48-72小時內)便開始治療,效果最明顯。常用抗病毒藥物是伐昔洛韋(valacyclovir),劑量一般是每日三次每次服1000毫克,連續服用7-10天。

急性帶狀皰疹也可以用以下營養補充劑:
維他命 B12每日5000毫克,分開數次服用。
將B12片劑含於舌下,效果會更快。

賴氨酸每日2,000-2,500毫克,有助於餓死相關病毒。


維他命B雜,有助神經線癒合。


Postherpetic Neuralgia follows a rash called "herpes zoster." Often called "shingles," it is caused by the same virus that causes chickenpox. The first time you get chickenpox, the virus remains in your nerve endings even after the chickenpox is gone. This usually causes no problems. If the virus re-activates in one of the nerve endings, however, it causes a rash (small blisters) all along the distribution of that nerve. The rash of herpes zoster is characterized by being painful and being in a line totally on one side of the body. If it extends past the midline of your body, the rash is probably coming from something else. If the pain persists after the rash is gone, continuing for weeks to years (over one year in half of elderly patients), it is called "Postherpetic Neuralgia (PHN)." The pain tends to be burning, electric, or deep and aching. Elderly are most affected by PHN. It can severely disrupt one's life, but fortunately can now be effectively treated in most cases.



Treatment

Once a new painful rash (not itchy) that fits the description of shingles, immediate treatment with prescription antivirals for ten days is highly recommended.



Medications

Beginning treatment early on in a shingles attack (within 48-72 hours) is critical. The recommended dose is 1,000 mg of valacyclovir(an antiviral agent) three times a day for a week to 10 days for shingles.



Recommended Supplements

Acute shingles can be helped with the following supplements:



Vitamin B12

B12 sublingual tablets (5,000 mcg a day dissolved under the tongue) can be helpful.



Lysine

Lysine 2,000-2,500 mg/day may help starve the virus.



B complex

Take a good B complex vitamin to help support nerve healing.



Medication reminder

In addition to these supplements, it is most important that you take the prescription antiviral noted above.